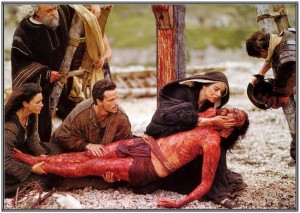 I've previously shared some of my experiences in growing up in a family of 17 children.  All of my brothers and sisters are still living, except for Kathryn Mary, my parents' 15th child.  At the time of her death, Kathryn was 13 months old.
Kathryn was born on September 13, 1972.  Within a couple of days of her birth, her doctors discovered that she had Down syndrome and a heart defect that was going to eventually need to be corrected with open heart surgery.  Unfortunately, she never got to a point where she had enough strength and stamina to withstand a surgery.   She was so weak that she was never able to turn herself over or crawl around on the floor.  She gained very little weight during the 13 months that she was with us.
Kathryn died in the early afternoon of October19, 1973.  At that time, I was 16 years old and was a sophomore in high school.  I knew something was wrong when I came home from school that day because my dad's car was parked in the driveway.  There was no reason for him to be home from work at that time.
When my brothers and sisters and I walked into the house, my dad gathered us together and told us that Kathryn had passed away earlier in the afternoon.  He told us that Mom was in our parents' bedroom holding Kathryn, and that she was having trouble accepting Kathryn's death.
I don't remember how many of us went into the bedroom to see Mom, but when I went in, she was still holding Kathryn in her arms.  She was refusing to acknowledge that Kathryn had died.  She kept saying that Kathryn was only sleeping and that she would wake up soon.
Kathryn's death was not unexpected.  There was one evening earlier in the year when she had died and was brought back to life when my oldest sister, Mary, administered mouth-to-mouth resuscitation.  After that, Kathryn had slowly gotten worse.  As a family, we had prayed that she would be miraculously cured, but our prayers were never answered.
It was a heart-wrenching scene — a mother holding her dead child, refusing to believe that her worst nightmare had come true.
My dad understood what Mom was going through and gave her time to come to terms with her loss.  Eventually, he was able to convince her to go with him to the hospital where a doctor could confirm that Kathryn had passed away.
What I saw that afternoon in my parents' bedroom was a glimpse of what the Blessed Mother had to have gone through when the bruised and bloodied body of her Son was placed in her arms.
Imagine being a mother and personally witnessing the death of your innocent son on a cross.  How would you react if you saw soldiers break the legs of the two criminals who were crucified with your son, before walking toward your dead son to break his legs?  Would you say something to the soldiers to try to stop them?
According to Saint Bonaventure, that's exactly what the Blessed Mother did.  Upon seeing the soldiers, she implored them to leave her Son alone.  As she was pleading with them, she saw another soldier impulsively thrust a lance into the side of her Son.  The lance cut through His flesh and into His heart, causing blood and water to gush out of His chest cavity.
In The Life of Jesus Christ and Biblical Revelations, a book that recorded the visions of the well-known 19th-century Catholic mystic, Ven. Anne Catherine Emmerich, it was revealed that the method that was used to remove the body of a crucified man from a cross was to pound out the nails from behind while allowing the dead body to drop to the ground.  A rope would then be tied around the body and the body would be dragged down into a nearby valley to be buried.
In his book, The Glories of Mary, Saint Alphonsus Liguori wrote:
The afflicted Mother, fearing that other injuries might still be inflicted on her Son, entreated Joseph of Arimathea to obtain the body of Jesus from Pilate, that at least in death she might guard and protect it from further outrage.  Joseph went and represented to Pilate the grief and desires of this afflicted Mother.  Saint Anselm believes that compassion for the Mother softened the heart of Pilate, and moved him to grant her the body of the Savior.
Saint Bridget wrote that the body of Jesus was removed from the cross by some of His disciples.  They placed ladders against the cross, and the body of Jesus was held up while the nails were removed from His hands and feet.  Then His body was lowered from the cross and placed in His mother's arms.
The first thing Mary did after she embraced the mangled body of her Son was to remove the crown of thorns from His sacred head.
What thoughts do you think were passing through her mind at that moment?  Did she think of the day He took His first steps?  Did she think about the first time he called her "Mom"?  Maybe she remembered the time He built a decorative box and gave it to her as a gift.
Or was she in a state of overwhelming grief — so numb that she really couldn't do anything but cry?
The piercing of the side of Jesus, and the Blessed Mother's receiving the body of Jesus in her arms, is the sixth of the Seven Sorrows of Mary.
And we think our lives are difficult.