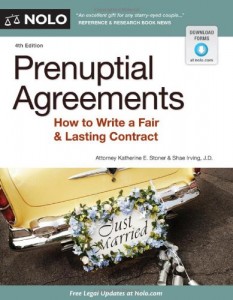 There's a new trend that's been developing among couples who are getting married. They are signing prenuptial agreements that prohibit their partners from posting nude or embarrassing photos on the Internet. A prenuptial agreement has been traditionally defined as a written contract that is signed by a couple prior to marriage. The agreement provides that in the event of a divorce, the couple will be allowed to retain the property that each of them acquired during the marriage.
Prenuptial agreements have historically been used by wealthy people who are concerned that their future spouse may eventually file for divorce and claim half of their assets.
In our modern Internet age, prenuptial agreements are becoming more common among couples who may not have acquired wealth, but are concerned about the actions of their spouses in the event of a divorce. The new language that is included in these agreements is commonly referred to as "social media clauses."
In a recent article published on the website for CBS Philly, a local television station in Philadelphia, Aaron Weems, a family law attorney in Blue Bell, Pennsylvania, commented on this trend: "It's just a way for people to really put down on paper what the expectations are, that after you're divorced or when you're in the midst of a divorce, you're going to treat each other with respect."
Weems added, "We don't live in the age when you can just turn over the photos and burn the negatives and you've now prevented yourself from ever having to see something embarrassing exposed. This digital media travels and it's difficult to remove once it's on the Internet."
Can you imagine your grandparents signing a written contract that prohibited them from passing around nude photos of each other to members of the public?
My law practice does not include representing couples in divorce court, but if it did, I would be inclined to advise a client to strongly consider entering into a pre-nuptial agreement that included a social media clause. Among the vast majority of the population, marriage is nothing more than a legal contract that can be broken at any time in the future. It is because of this attitude toward marriage that the divorce rate is at the 50 percent level, even among so-called Catholics.
To complicate matters, we now have several states that have legalized "gay marriage," so it makes even more sense for a person to insist that his or her partner sign a written agreement that contractually binds the parties to behave in a respectful and civil manner if and when there is a breakup.
So how did we get to this point, where you can no longer even trust the person you are pledging to love and cherish for the rest of your life?
Catholicism is the only religion in the world that holds that no human on earth has the power and authority to dissolve a valid union between a man and a woman. It is primarily because of this position that Protestantism came into existence during the 16th century. Within four years of Luther breaking away from the Catholic Church, divorces and "remarriages" were common among his followers.
How can any Christian sanction divorce when Jesus clearly stated that such conduct was unlawful? In response to a question from some of the Pharisees as to whether it was lawful for a man to put away his wife for any reason, Jesus responded,
Have you not read that the Creator from the beginning made them male and female, and said, "For this cause a man shall leave his father and mother, and cleave to his wife, and the two shall become one flesh? Therefore, now they are no longer two, but one flesh. What therefore God has joined together, let no man put asunder." (Matthew 19:3-6)
Jesus knew how difficult it was for a man and a woman to remain married. That's why he elevated marriage to a sacrament. From its inception, the Catholic Church has taught that when a man and a woman get married, they are entering into a lifetime covenant to remain faithful to each other until death. In God's eyes, marriage is not a contract. It's a covenant.
During the 1980s, I taught Business Law at Illinois Central College. One of the areas that I covered in class was contract law. I taught my students that there are four requirements for a valid contract: (1) offer, (2) acceptance, (3) consideration, and (4) legal and mental capacity (the parties have to be at least 18 years old and mentally capable of entering into an agreement).
One example of a valid contract is if I offer to buy your car for $5,000 and you accept my offer, as long as you're 18 or older and mentally competent, there is a valid contract between us. The agreement to exchange your car for my $5,000 is the consideration.
Another example is if a painter gives you an estimate of $2,500 to paint your house and you tell him to go ahead with the job, as long as you're both of legal age and are mentally competent, there is a valid contract between the two of you. The agreement to exchange $2,500 for services is the consideration. If the painter offers to paint your house for free and you accept his offer, there is no valid contact because there is no consideration that will be given in exchange for the painter's services.
Within our system of laws, a marriage is considered to be nothing more than a contract between two parties. The consideration is the commitment to serve each other (until the parties can no longer get along or one of them finds someone else).
A covenant is a lifelong promise that is made by a man and a woman under oath to God that they will be faithful to and love one another until one of them dies. A contract requires the parties to exchange goods or services (consideration) with each other. A covenant requires the parties to give themselves to each other and to God. In addition to entering into a covenant when they are married, Catholics make a solemn vow to accept the children that God has planned for their marriage.
What happens when governments and societies reject our Lord's teaching concerning marriage? There is a massive breakdown of the family unit, which is the foundation of a civil society. What is it that causes the breakdown of the family unit? It's all the sins that are associated with the rejection of the Catholic Church's teachings on marriage, which include adultery, contraception, pornography, masturbation, homosexuality, fornication, divorce, and abortion.
So what can Catholic couples do to stay happily married while the world around them is falling apart? I'll address that question next week.